Amazon FBA fees are one of the key factors sellers must understand to build  a successful online business.
Below, we break down the various components that make up the FBA cost structure, shedding light on the factors influencing these charges. Plus, we'll offer tips on how sellers can optimize their FBA practices while keeping costs in check.
Whether you're an aspiring entrepreneur stepping into e-Commerce for the first time, or an established seller seeking to fine-tune your Amazon strategy, this article will equip you with the knowledge and confidence to navigate the ever-evolving landscape of Amazon FBA fees.
What Fees Do Amazon Sellers Pay?
Amazon continues to be the world's largest e-commerce company in terms of market cap and revenue, as per Yahoo Finance. In fact, Statista data says Amazon's 2022 worldwide revenue almost hit $514 billion.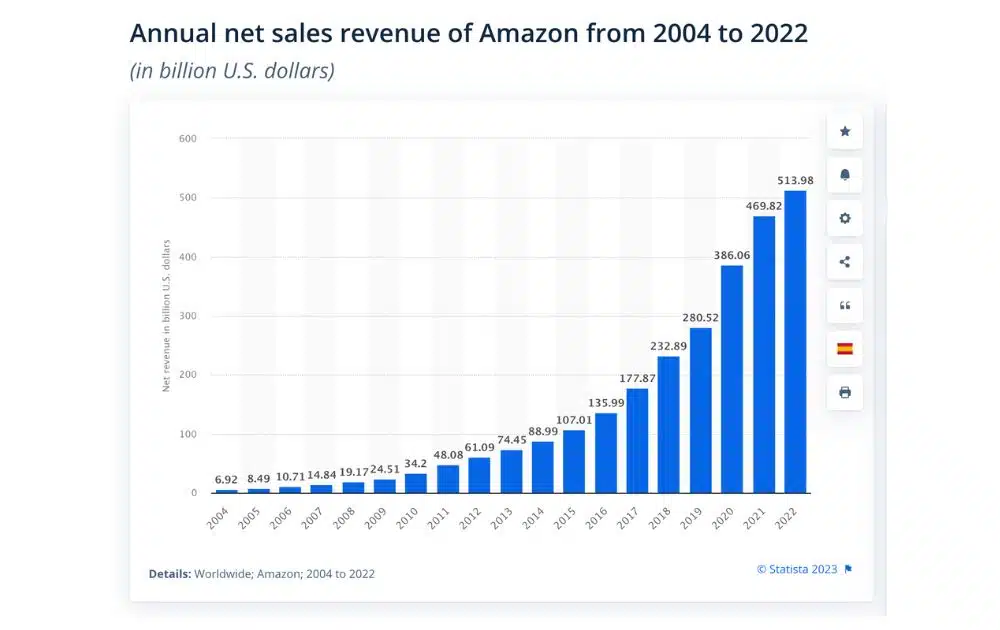 Selling products on Amazon can indeed be lucrative. But just like any other venture, it comes with a cost, such as Amazon FBA fees.
In general, Amazon fees may differ depending on the selling program you avail. For instance, Seller Fulfilled Prime allows you to deliver goods directly to domestic Prime customers from your warehouse. The two-day shipping guarantee is an excellent way to attract buyers, but it also means higher shipping costs for sellers.
Related content: Wholesale Sourcing for FBA Sellers
On the other hand, Amazon Vendors also deal with different fees. However, since this is an invitation-only program, you wouldn't need to worry about it. That is, unless you are a qualified manufacturer, distributor, or wholesaler contacted by Amazon for the program.
Here are the general factors that affect the amount you need to sell on Amazon:
Amazon Selling Plan
Amazon offers sellers the flexibility to choose between two selling plans. You can pay for each sale individually, or opt for a fixed monthly fee:
Individual

. This plan costs $0.99 per item sold, plus additional selling fees. The Individual Plan is suitable for sellers with low sales volume (less than 40 units per month), are exploring product options, and do not intend to advertise or use advanced selling tools.

Professional

. The Pro Plan costs $39.99 per month, plus additional selling fees. This plan is best for sellers with higher sales volume (more than 40 units per month) who wish to advertise their products and qualify for top placement on product detail pages. It's also a good option for those who use advanced selling tools like APIs and

Amazon reports,

or sell products in restricted categories.
Product Category
For each item sold on Amazon, a referral fee is applied and varies based on the product category. Such fees typically fall from 8% to 15%.
The category with the highest referral fee is Amazon Device Accessories, currently at 45%. The lowest referral fee percentage is 8%, which applies to categories such as Beauty, Health and Personal Care‒specifically for items with a total sales price of $10 or less.
Fulfillment Strategy
This is the part where Amazon FBA seller fees may apply or not. The fulfillment fees are determined by whether you choose to ship products on your own or use FBA for handling logistics and providing Prime shipping for your products. We'll discuss Amazon FBA fees in detail in the next section.
If you are a Fulfilled by Merchant (FBM) seller, meaning you fulfill orders yourself, you wouldn't need to pay Amazon FBA selling fees. Instead, Amazon applies shipping rates based on the product category and customer-selected shipping service. They then pass this amount to you as a shipping credit.
Other Variables
Aside from these costs, there may also be additional selling expenses for optional programs designed to boost sales. These may include the following:
Inventory placement service

Premium account services 
What are FBA Fees on Amazon?
Now, the question you're probably here for: What are Amazon FBA fees? Understanding how Amazon FBA works is vital to get a clear picture of FBA Amazon fees.
When you sell products on an e-commerce platform, the entire process includes fulfilling customer orders, including inventory management, packing, shipping, and handling returns. When you opt for FBA, you wouldn't have to deal with these tasks in exchange for paying Amazon FBA fees.
Here are Amazon FBA business fees to consider as you compute your investment:
Inventory Storage Fees
Amazon FBA storage fees apply to all items stored in an Amazon fulfillment center. Fees are calculated based on the daily average volume of inventory‒measured in cubic feet.
Amazon FBA fees for storage vary depending on the time of the year. The standard-size storage costs $0.87 per cubic foot from January to September, while oversize storage costs $0.56 per cubic foot.
Storage fees are higher from October to December, as these months cover seasonal shopping events. During this season, the standard-size storage costs $2.40 per cubic foot, and oversize storage costs $1.40 per cubic foot.
Aged Inventory Surcharge
This fee is assessed monthly for all items stored in a fulfillment center for over 181 days. Maintaining good inventory health can help you avoid incurring the aged inventory surcharge.
Fulfillment Service Fees
Charged per unit, Amazon FBA fulfillment fees cover the cost of picking and packing your orders, shipping and handling, customer service, and processing product returns. 
Amazon FBA fees for fulfillment can be categorized as either apparel or non-apparel. Certain products may also fall under a special program called FBA Small and Light.
Apparel products

are slightly higher than those for non-apparel items. Apparel products often have different dimensions, may require special packaging, and can be more challenging to handle during the picking and packing process due to their various shapes and sizes.

Non-apparel

products typically have more standardized dimensions and packaging requirements. This makes them easier and more cost-effective to handle in fulfillment centers.

Small and Light

is a specialized FBA program that caters to sellers with compact and lightweight products, which are cost-effective to store, pick, pack, and ship.
Let's take an example to illustrate the difference between the Amazon FBA fees. A small standard unit with a maximum dimension of 15″ x 12″ x 0.75″ and weighing 4 oz. or less containing apparel, has a fulfillment rate of $3.43. On the other hand, a unit with the same size and weight but containing a non-apparel product would have a fulfillment rate of $3.22. 
An FBA Small and Light small standard unit with the same maximum dimension and weight has a fulfillment rate of $2.47. You can discuss with your FBA coach if your products are qualified for the Small and Light program to avail of lower Amazon FBA fees.   
Unplanned Services Fees
Aside from Amazon FBA shipping fees, there are charges for unplanned services when inventory arrives at a fulfillment center without the necessary preparation or labeling, leading to the need for unplanned services.
Removal Order Fees
If you wish to have Amazon return or dispose of your inventory in a fulfillment center, you can do so for a per-item fee.
Returns Processing Fees
These Amazon FBA fees are charged on orders when Amazon provides a customer with free return shipping.
How to Calculate Amazon FBA Fees
To calculate Amazon FBA fees and how they could affect your income, you can use the FBA revenue calculator available in the marketplace. 
Using the FBA calculator, define the product or search for it within Amazon if it's already listed. Existing products' prices and shipping details will auto-fill from the Featured Offer. 
For products not listed yet, you can update the Item price and Shipping charge for seller fulfillment as needed.
To get accurate profit estimates per unit, input the estimated cost of goods sold for each fulfillment option. Include Amazon FBA fees and any other fees you anticipate, such as FBA bagging and labeling service add-ons. 
Here are the fees included in the Amazon FBA fees calculator:
FBA fulfillment fees for items sold in Amazon stores

Monthly storage fees

Variable closing fees
The Lowdown
Amazon sellers must recognize that entering the competitive marketplace requires a solid understanding of Amazon FBA fees and the associated costs. 
Careful consideration of fulfillment costs can significantly impact the overall profit margin, making it essential to choose the most suitable fulfillment method for each product.
Author 
Carla Bauto Deña is a journalist and content writer producing stories for traditional and digital media. She believes in empowering small businesses with the help of innovative solutions, such as e-commerce, digital marketing, and data analytics.