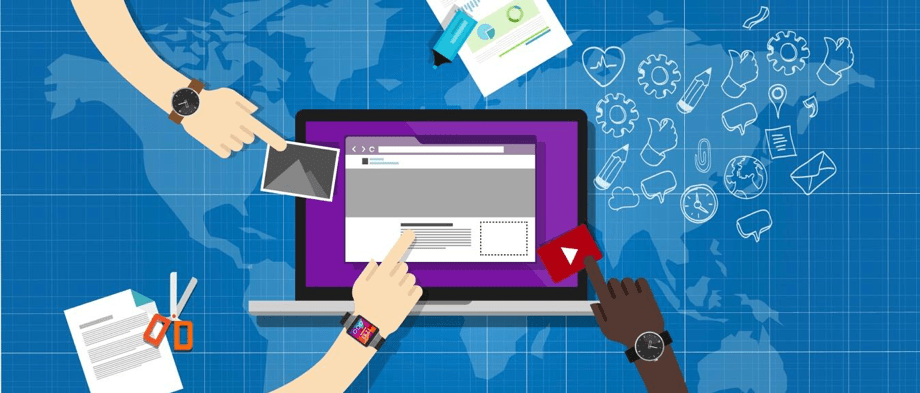 Amazon's A+ Content is worth taking a closer look at. This high-end content incites us – Amazon regulars – to engage with the platform and buy more.
The tech giant is known for continually improving the quality and effectiveness of its Seller and Vendor Central features, in order to provide both merchants and vendors with sufficient powers and resources to keep up with the high demands of customers.
Here's where A+ Content comes into play.
The much-vaunted features – once referred to as "Amazon Enhanced Brand Content (EBC)" by sellers and "A+ Enhanced Marketing Content (A+ EMC)" by vendors – now receive the name of A+ Content and it has decisively claimed the top position among the many tools available in the platform.
Even better, it's free!
We took on the task of putting together everything you need to know about A+ Content on Seller Central, so you can take advantage of this great resource to the fullest.
---
The Birth of Amazon EBC and A+ EMC
In 2016, Amazon introduced EBC to Brand Registered sellers, allowing them to apply this feature to ASINs that belonged to their approved brand catalog.
It started out as a promotional free trial, which was enough to amaze sellers by giving them the chance to showcase their products in an exquisite and tasteful display.
Back in those days, EBC wasn't available in the following categories:
On par with EBC on Seller Central, A+ EMC was unveiled on Vendor Central, further empowering vendors and pleasing the eye of Amazon shoppers.
Of course, A+ EMC had a fuller feature package than EBC.
But with time comes change, and Amazon decided that it was the right moment to simplify and optimize their processes by consolidating both tools as "A+ Content" and to make it available for sellers and vendors alike at no cost.
---
What Does the Amazon A+ Content Editor on Seller Central (SC) Contain?
The A+ Content editor on SC allows you to customize your content into 6 different modules:
Company Logo
Image Header with Text
Multiple Image Module A
Product Description Text
Standard Comparison Chart
Standard Four Image & Text
---
Make your content stand out by using high-definition images, and avoid rejection from Amazon by following the image and text placement guidelines that correspond to each module.
---
Dip into the chart below to learn more:
Source: Amazon
---
Last but not least, consider using modules that prioritize images over text.
As a rule of thumb, online shoppers don't enjoy reading long blocks of text, and you'll lose a potential buyer's attention if you cram your product features and description into your A+ Content layout.
---
Create A+ Content on Seller Central in 9 Simple Steps
Crafting A+ Content on Seller Central is easier than you think. However, keep in mind that only Professional sellers who meet Amazon's eligibility requirements are able to use this feature.
Follow these steps:
Log into your Seller Central account.
Select A+ Content from the Advertising menu.
3. Click "Start creating A+ Content".
4. Fill out the Content details form, and click "Add Module" to start creating content.
5. Choose from the six different module choices within the A+ Content editor:
---
Note: The Company Logo module and the Product description text box are predetermined by Amazon, and although you can't change the location of those, you can choose whether or not to use them.
---
6. Populate the text and image slots. This is an example of how your detail page will look like after it's done:
A+ Content Layout Breakdown by AMZ Advisers
---
Don't be afraid to make mistakes!
The A+ Content builder is intuitive, and you can try out different arrangements and layouts.
You can also click Preview to see what your content will look like in both Desktop and Mobile versions.
---
7. You'll be required to submit image keywords, also known as alt-text when you upload your images.
---
8. Now, it's time to apply ASINs to the content in the ASIN management section.
Tip: Another great asset of A+ Content is that you can also create language variations within a marketplace for your international shoppers!
---
9. If you want to review the final draft of your content click Review & Submit. And finally, click Submit for Approval.
---
According to Amazon, "Review can take up to 7 business days or longer (during periods of high volume), and the status will reflect in the A+ Content home page.
If the A+ status is Not Approved, view the rejection reasons by clicking Edit for a specific piece of A+ content and make the changes.
After the A+ content is Approved, it can take up to 24 hours to publish on the detail pages of the applied ASINs."
---
A+ Content Restrictions
It is paramount that you abide by Amazon's terms and policies to avoid any rejections from their part.
Here are some guidelines you must take note of if you want to jump on the A+ Content bandwagon.
Don't:
1.Use blurry or low-quality images.
2.Write content in a language that is not authorized in the marketplace you're selling, including HTML tags.
3.Advertise your company by making any subjective claims. i.e., "top selling product", "#1 selling product", etc.
4.Mention seller authorization such as "product only sold by authorized resellers".
5.Offer any warranty or guarantee.
6.Make any promotion references such as "affordable", "cheap", "bonus", "free", "buy now", etc.
7.Provide information about shipping details.
8.Use any registered symbols such as trademark or copyright.
9.Use web links to redirect to other sides outside of Amazon.
10.Publish any content without reviewing it for proper grammar.
(Bold and italic should only be used to highlight headings or a few words.)
Visit Seller Central to get the full list of restrictions.
---
What Is Premium A+ Content (A++ Content)?
This option, released in 2016, is a remastered version of A+ Content.
It comes with a hefty premium fee ($250K-$500K), and it's exclusively available to vendors and huge brands like Apple, Dove, and Sony, to name a few.
Predictably, access to its mind-blowing features is invite only.
What are the perks of this extended version of A+ Content?
With A++ Content you can add:
More module slots than A+ Content on SC
Carousel modules
Full-width imagery
Interactive comparison charts
Testimonials
HD videos
A Q&A section
In general, its approach is much more visual than the basic version of A+; therefore, the use of text is minimal.
We could easily say that with Premium A+ Content, not only is a picture worth a thousand words, but it will also set you back a couple of thousand bucks.
---
When is Amazon A+ Content Worth It?
1P Sellers were sometimes hesitant in the past to pay for A+ Content on their listings. However, Amazon has now made the program free in 2019.
This means that all Amazon Vendors should consider adding A+ Content to their listings. The challenge is to create good content that will help conversion rates. Poorly designed content can have a negative effect on listings just as much as great content can boost them.
We believe there are certain things you should consider when determining whether you want to add Amazon A+ Content to your product listings. We have laid them all out here for you to check out:
---
#1 – Sales Revenue
It is generally a good idea to start adding A+ Content to your top selling listings. Creating the content does take time. And focusing on lower traffic or revenue listings to start may not provide the immediate return you are looking for.
Great A+ Content can help you increase conversion rates bringing in even more sales to top selling listings. The 3%-10% increase that Amazon claims A+ Content adds can mean thousands of dollars in additional sales. We believe you should always look to start adding high quality content to these listings first so you can see the benefit yourself. Seeing the sales increase will show you the return on investment and that it is worth adding it to other listings in your product catalog as well.
---
#2 – What Is the Competition Doing?
Another great determining factor should be what the competitive landscape looks like for your listings. You should constantly be comparing yourself to your competition to see where you could improve. Search for competitive ASINs on Amazon to see if they have A+ Content on their listings. Both Vendor and Seller Central users have the ability to add this content although the names are slightly different on each platform.
Even if your competitors do not have the content it could be a good opportunity to help your listing stand out. You should consider where your product ranks for certain keywords. Research that indicates ranking higher will dramatically increase your sales is a good sign that it is worth adding. The additional content will help your product standout more – which can lead to more conversions and better visibility on Amazon.
---
# 3 – Product Complexity
Products can often have a level of complexity that makes it difficult to explain in bullet points or normal product descriptions.
A+ Detail Pages are a great opportunity to discuss the primary features, benefits, or ways to use a product that cannot be conveyed through text alone. Explaining the product better and how it can be used can be a great way to convert more customers.
---
#4 – Upselling Your Catalog
You can also use A+ Content to provide a better shopping experience for the customer by comparing multiple products in your catalog. This can help a customer see what features each product has and ensures that they are purchasing the correct one. It can also help you upsell higher priced products by showing the additional benefits.
Amazon will sometimes do product comparisons of their own products on your listing pages. This seems to be an unfair practice, but fighting back with your own comparisons can help convince a customer they are making the correct decision. You cannot directly mention a competitor product in comparison charts, but explaining your product benefits and features better across your catalog can help convert a shopper into a customer.
---
Will Amazon Create A+ Content for Me?
Previously Amazon was creating A+ content for Vendor Central users who did not have the capabilities to create the content themselves. Vendors would submit images and other content and Amazon would utilize that content to build out an A+ Detail Page.
This feature is no longer available, and every Vendor must create their own A+ pages.
Many vendors may not have the experience or capabilities to create the correct types of content that will help increase conversion rates on Amazon. We frequently partner with vendors who need this type of help. If you are a vendor and believe your product listings can be improved with A+ content, feel free to contact us and we will give you our feedback on what could be done.
What to remember About Amazon A+ Content on Vendor Central
– A+ content does nothing for your organic page ranking
– Amazon A+ Content only shows up on desktop for now.
– You have to pay more to create A+ Enhanced Marketing Content pages for products that are already listed by another vendor.
– You must submit content for your A+ pages within a month of confirming the Purchase Order for the eligible product to qualify for the promotion.
– The promotion is limited to five or less pages per vendor.
– Changes are only permitted within 2 business days after an A+ page goes live.
– Amazon can take down a page at any time, but usually when a vendor closes their account, fails to fulfill Purchase Orders, or violates Amazon policies.
– All images and text on A+ pages must be unique and focus on the product; however, you may use lifestyle images if they are useful for showing the product in use.
– Mentioning competitors or their products on A+ pages is prohibited.
---
Why You Should Use A+ Content
It is clear that online shopping has gained more popularity over the last years.
Even those who swore to never rely on eCommerce platforms to acquire their day-to-day essentials are giving in, enraptured by the convenience of shopping from the comfort of their home.
For this and other reasons, A+ Content can help you build a solid customer base by allowing you to present your products in an appealing way.
Everyone appreciates reading through good content, and Amazon is providing you with all the tools to improve the way you showcase your products to the world.
---
How Creating A+ Detail Pages Has Helped Our Clients
We understand how A+ Detail Pages can benefit Amazon product listings because we have seen the results for our clients.
We were able to help Plackers, one of our clients, design A+ Content that increased sales and helped them earn an Amazon's Choice Badge for the term Dental Night Guard.
---
Determining the Client's Needs
Designing great A+ Content requires us sitting down with each client to determine what aspects are the most important for them. We ask a series of questions related to their goals, product catalog and design preferences. This helps us determine the layout and design aspects of the content that are the most important to them.
We analyze our client's sales data to determine which Amazon listings will benefit the most from adding A+ Detail Pages. Our team goes through the same research as mentioned earlier to determine where to start creating content. We look for the highest-selling listings, perform competitor analysis, and considering product complexity before setting our goals and targets for when we Create Amazon A+ Content.
---
Designing The A+ Content
Our project management and design teams take what we gathered during the client consultation and create the A+ Detail pages. We utilize a variety of images provided by the client, that we take our selves and that we get from stock image websites to create the pages.
The goals for the page determine what modules are used and how our copywriters prepare the content for the pages. The copywriting team will create sales copy from the most important features and benefits of the products communicated by the client. We then pull it all together into a finished product. After the client has approved our design, we upload it to the listing and ensure it goes live.
---
The Results We Have Seen
Vendor Central analytics are extremely limited in the data they provide to 1P sellers. It is nearly impossible to measure the exact conversion rate or traffic to each product listing. As we said before, Amazon claims that A+ Detail Pages can increase conversion rates by 3%-10%. That claim cannot be substantiated without Retail Analytics Premium or a Seller Central account.
What we can measure is the sales performance before and after the content is added. The content itself will not rank within the Amazon search algorithm. Any increases in sales is therefore somewhat attributable to the addition of the Amazon A+ content. The growth can very between products and categories, but what we have seen is that sales typically increase between 5%-15% after A+ Detail pages are created.
Adding A+ Content your product listings can be an effective way to increase your overall sales on Vendor Central. A failure to see any measurable impact on sales is a good indication that your content is lacking something. If you see this on your pages, you should consider reworking the content or creating new content from scratch to see how that performs.
---
Summing Up Amazon A+ Detail Pages
Using great Amazon A+ content on your product listings will help you increase your sales on Vendor Central. Building out the modules on your own is intuitive, however sometimes working with an experience provider or agency can make it easier. Amazon no longer provides a service to help you build your content as they did in the past. There are a few things you should look for when you consider adding A+ content to your product listing pages. Start by focusing on your top selling products, checking what the competitors are doing and trying to understand where your customers may run into problems.
Following our best practices and tips will help you design the best converting content for your product listing pages. Our examples provide a simple template that you can follow and be on your way to start creating incredible Amazon A+ content. Be sure to follow the guidelines and you will be on the way to creating a great listing that helps turns shoppers into customers.
---
Now you are ready to start taking over the Amazon market place with this important tool at your fingertips. Take advantage of this program and see the levels of success it can bring you. We hope our guide on how to create Amazon A+ Content has provided you with what you need to go stand out from the competition.