Millions of shoppers are preparing for Amazon Prime Day 2021, the biggest sales day of the year. Sellers also get higher rankings because primer members shop more than non-subscribers. And of course, both brands and members can reap the benefits of Prime Day.
Since its launch in July 2015, Prime Day has only grown bigger. That's why today we'll share what you need to know about Amazon Prime. And more importantly, we'll show you how to prepare for a lucrative Amazon Prime Day.
What is Prime Day?
Amazon Prime is perhaps the most successful Amazon program. In fact, many customers only buy products that feature the Amazon Prime badge.
But that's just the tip of the iceberg. Prime members pay a $119 annual fee to enjoy 2-day deliveries, Whole Foods discounts, and streaming content.
Back in 2015, Amazon celebrated its 20th birthday with a day-long shopping spree. The sale grew so popular that the marketplace turned the event into an annual affair. 
Thus, the retail giant created Prime Day. And each year's iteration outshines the last.  Here's a quick rundown of Prime Day throughout the years:
2015 – Amazon sold 34.4 million items, and sellers worldwide increased sales by 300%.
2016 – Third-party sellers tripled orders, and global sales were 60% higher than in 2015.
2017 – Products sold 50% more than in 2016 and Prime Day got extended to 30 hours.
2018 – Prime Day       lasted 36 hours. Members purchased over $100 million products worldwide
2019 – Third-party sellers generated over $2 billion from sales. Plus, Prime Day became a two-day celebration.
2020 – Prime Day got delayed until October due to the COVID-19 pandemic. However, sales still surpassed $3.5 billion across 19 countries.
Source: Jungle Scout
As you can see, Amazon Prime and Prime Day offer huge opportunities for growth. If you want to reap these benefits, then you must enroll in Seller Fulfilled Prime.
Amazon Prime Day 2021 and Seller Fulfilled Prime
Seller Fulfilled Prime (SFP) enables brands to meet Amazon's shipping standards. But SFP sets very strict criteria for aspiring sellers.
Before entering the 30-day trial, make sure you are eligible for Premium Shipping. You must have a 92% on-time order delivery rate; a 94% valid tracking ID. Plus, your cancelation rate must be below 1.5%.
Also make sure you have enough stock to fulfill prime orders, and select the best Amazon-approved shipping ally for you.
Once in the SFP trial, you must meet the following requisites:
Two-day delivery commitment
National delivery coverage for standard-size items
Weekend pickups and shipping
Let Amazon handle customer service
99% on-time distribution track record
Cancellation rate below 0.5%
It takes 200 Prime orders to pass the SFP trial. If you succeed, you'll enjoy all Amazon Prime benefits. Plus, you'll join in the Prime Day fever!
Get ready, Amazon Prime Day is here!
Source: Amazon.com
Prime Day 2021 is set for June 21 and 22. To sow the rewards of the occasion, sellers need to prepare at least a month before the big day.
That's why we've prepared the following tips to boost your Amazon Prime Day 2021 profits.
Read on!
Inventory Management
Select the products you want to sell. Then, make sure you are fully stocked at the fulfillment center.
You need enough inventory to meet demand during the Prime Day rush. Running out of stuck will certainly hurt your sales and Amazon ranking.
Also, try to sort out any unsold products. You can take Prime Day as an opportunity to sell them at a higher price. 
Deals & Discounts
Source: Amazon.com
Shoppers love great deals. Strive to create discounts and deals for customers on Prime Day. Review the best tools for your brand and give the best value you can.
Here are a few promotion tools you can use:
Prime Exclusive Discounts – These items display the "Prime Day Deals" badge. They are unique offers for Prime Subscribers.
Prime Member Promos – Products featured on "Amazon Prime Day" and "Today's Deals", during Prime Day.
Coupons – Create vouchers so customers get a discount at checkout. Coupons show as bright orange tags next to the listing price.
Lighting Deals – Discounts available for a few hours as flash sales on Amazon Deals. The marketplace can suggest the best products to place on Lighting Deals.
Prime Early Access Deals – These are deals visible to Prime members half hour before Prime Day goes live.
Prepare for Amazon Prime Day 2021 with SEO & Listing Optimization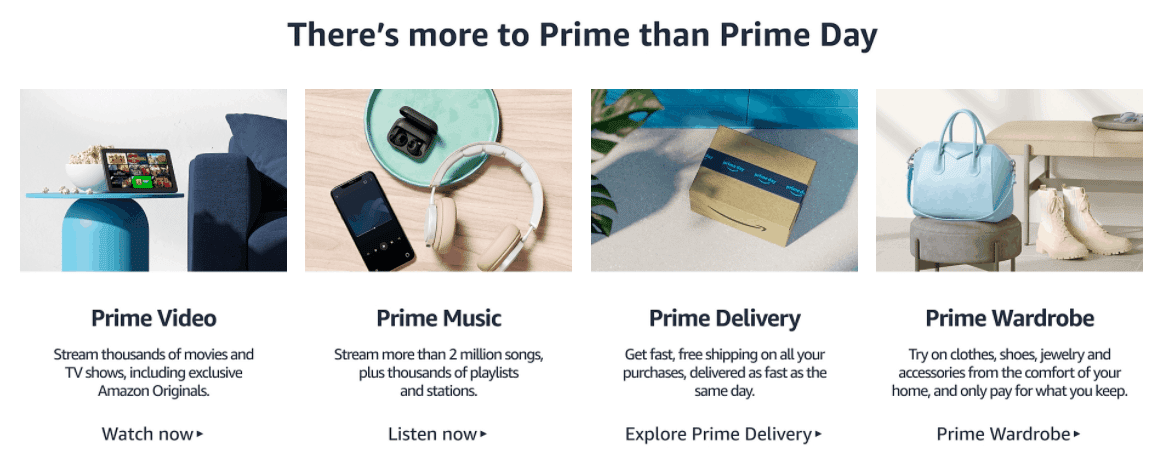 Source: Amazon.com
You must rank high to make great sales. Make use of SEO tools to boost your products visibility. Here are some key tips to work on:
High-quality images – Make your items attractive. Also use pictures to tell customers how a product will benefit them.
Detailed title and descriptions– Don't leave a copy behind. Great titles and product descriptions can capture the shopper's attention.
Targeted Keywords – Include relevant search terms in the title, backend and bullet points. This will boost your Amazon search ranking.
Enhanced Content – Create detailed storefronts and A+ Content to keep the customer's attention.
Live Streaming – Consider setting up Amazon Live streams. You can showcase your products directly to consumers, and drive traffic to your store.
Amazon Prime Day 2021: Promotion & Advertising
Make your presence known. Effective promotion tools will place you right in front of Amazon Prime members.
To get the most of your marketing during Prime Day, you need to use the right strategies. For example, use sponsored campaigns to boost product visibility.
There are three options to consider:
Sponsored Products – Cost-Per-Click ads visible on product pages and in search results      
Sponsored Brands – Highlights three product offerings    
Sponsored Display Ads – Advertise your catalog on several channels, at the same time    
Also, optimize your Pay-Per-Click ads. Take advantage of the most relevant keywords to target your audience and boost your ranking.
Social Media
Don't forget to publish your Prime Day deals on social media. Capture your clients interests with posts, stories, and short videos.
Compelling social media posts can tell customers what your products are about. Therefore, a bit of Facebook and Instagram engagement will result in Prime day sales.
These platforms are great for showcase products. For example, you can use Instagram Stories to create engagement and grow awareness about Prime deals.
Also, you can use Facebook groups to provide insider info: discount sales, giveaways, new launches, and more.
Related content: Can Amazon Sellers Boost Their Sales Through TikTok?
Final Thoughts
Amazon Prime members make the most of their shopping from day one. That's what makes the program so successful: it is all about the consumer.
If you invest in the customer, they'll invest in you. That's what Prime Days is about. It is one of the many rewards for loyal shoppers and customer-focused brands.
So, don't miss out on this unique win-win situation. With proper tactics and care, you can make a killing out of Prime Day 2021.
Author
Esteban Muñoz is an SEO copywriter at AMZ Advisers, with several years' experience in digital marketing and e-commerce. Esteban and the AMZ Advisers team have been able to achieve incredible growth on the Amazon platform for their clients by optimizing and managing their accounts and creating in-depth content marketing strategies.