With the holiday season fast approaching, Amazon Shipping is here to provide UK sellers with a convenient solution to deliver their products at a lightning speed.
Brian Olsavsky, SVP, Chief Financial Officer at Amazon, said that Amazon's capacity will be "tight" for the coming holidays and will continue to rely on their shipping partners such as UPS and the U.S. Postal Service to provide its large network the best during this time of the year.
However, in the United Kingdom, Amazon is taking a more steadfast approach by providing UK sellers with a solution to tackle the imminent setbacks that come with the shopping craze of the holiday season.
Read on to learn more about how Amazon is working to make this holiday season's order fulfillment as smooth as possible.
What makes Amazon Shipping so appealing?
When it comes to freight and transportation, Amazon was able to manage it well.
For starters, Amazon Shipping is not a fulfillment service. It just makes delivery easy by offering the following:
Parcels's pick-up 7 days a week
Shoppers can expect next-day deliveries for items sold outside the Amazon Marketplace
Sellers can get quick reimbursements if their parcels get missing in the process
No extra charges for residential or weekend delivery and peak fees
You can cancel your subscription at any time
Dedicated Shipper Support
Easy sign-up
Customized quotes
With this new shipping alternative, Amazon sellers will be able to deliver more packages in a short period of time and will keep other costs such as fuel consumption down.
What's not so great about Amazon Shipping?
There is a tier-limitation of 2-5 packages
There are shipping restrictions for hazmat products (i.e, aerosoles and batteries) and others that may require age verification such as alcohol
Amazon's move into shipping its own packages and freight will be a big advantage, especially this holiday season when everyone is rushing and very eager to get their parcels on time.
If you are an Amazon Seller in the UK, you might want to get a quote. Visit Amazon Shipping website for more information.
USPS Shipping Fee Hike
Amazon warned sellers about higher shipping costs during the holiday season, referring to the USPS temporary rate hike that took effect in October. Amazon issued the following announcement about the hike:
From October 18, 2020 to December 27, 2020, the U.S. Postal Service will be implementing a temporary commercial price increase. As a result, USPS rates on Buy Shipping will increase to coincide with this price increase. For information, please refer to the following announcement from the USPS.
Neither FedEx nor UPS are raising the general shipping rates, but they are changing some surcharges for the holiday season. This practice is not actually new; they started doing this 6 years ago after the 2013 holiday-shipping crisis.
Shipping & delivery options for Amazon Sellers outside the UK
The e-comm giant recently announced plans to open delivery stations near Atlanta, Colorado Springs, and Syracuse, N.Y.
And although Amazon, UPS, and the USPS (United States Postal Service) are dependent on each other, little by little Amazon is becoming more independent.
The Birth of Amazon Flex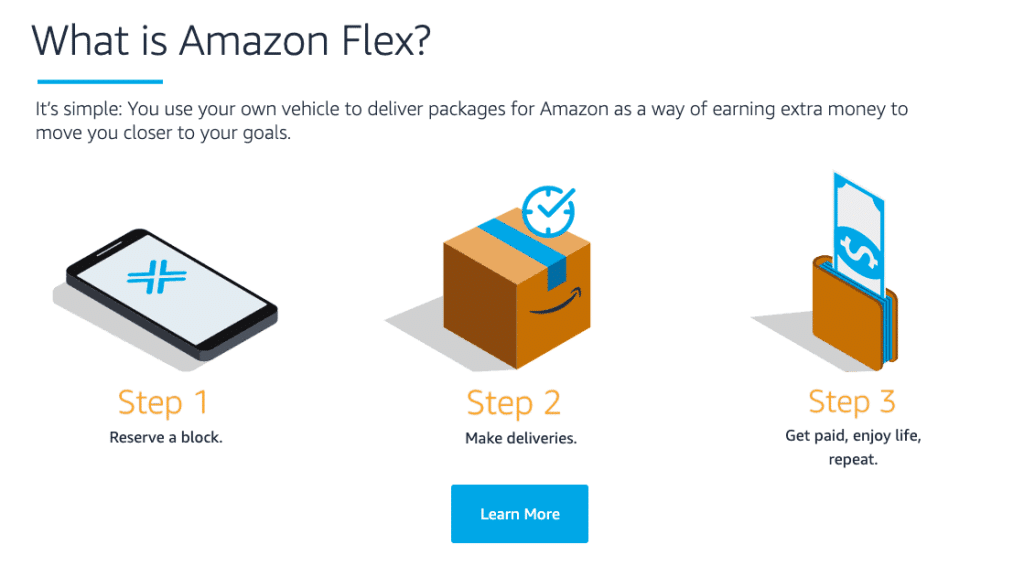 2013 wasn't an easy year for UPS. The company struggled to meet holiday shipping deadlines, making their reputation low when gifts didn't arrive before Christmas.
After seeing what happened, Amazon launched Flex two years after.
Amazon Flex is an Uber-like service for package deliveries with contract drivers who are using their own cars to drop off orders at customers' place.
They were also able to invite entrepreneurs to form small businesses to lease 20 to 40 gray vans with Amazon's blue smile logo to expand further into delivery in metro markets.
This delivery service scattered to different locations across the globe. It now has 1,700 delivery-service partners in:
United States
Canada
The United Kingdom
Spain and
Germany
Key by Amazon | In-Garage Delivery
Just in time for the holidays, Amazon has expanded its Key by Amazon In-Garage Delivery service to over 4,000 cities across the United States.
In-Garage Delivery service is now available to Prime members in selected cities such as Los Angeles, New York, Dallas, Houston, Chicago, Boston, Atlanta, Phoenix, Philadelphia, Washington, D.C., and thousands of surrounding areas. Members can check their zip code eligibility on the Key by Amazon webpage.
The delivery service rolled out at the perfect time. Consumers are turning to Amazon and other e-marketplaces for their holiday shopping needs.
Most of the consumers are still hesitant to visit a retail store due to health or safety concerns stemming from the COVID-19 pandemic.
It offers convenience, and a secure in-garage delivery service is an enticing draw to shoppers seeking to limit in-person interactions.
The initiative may drive more Prime members to shop on Amazon's marketplace this holiday season and can increase membership subscriptions — especially since 81% of consumers said they are more likely to purchase a product with free shipping. Membership is not free, but shoppers are not charged for product delivery through Prime. Amazon sellers should make products in their catalog Prime-eligible by cyber week to maximize their sales.
Amazon Fresh
In addition to the expansion, Amazon launched a new in-garage delivery service for groceries.
Prime members can order groceries from Amazon Fresh or Whole Foods Market and have it delivered into their garage.
The Key by Amazon In-Garage Grocery Delivery service is currently available in San Francisco, Los Angeles, Seattle, Dallas, and Chicago.
Final Thoughts
Shoppers can check this page throughout the season to get the latest on holiday shipping (including holiday shipping cut-off dates), delivery, pickup, returns information, and more.