For many video gamers and podcasters, Twitch has become the go-to platform to show off their skills and establish a good reputation among the gamer community. But there is more to it than that. This leading live streaming service for passionate gamers has also a special program for those looking for ways to rake in some extra cash: Twitch affiliate links.
Twitch has its own affiliate program. When streamers go live, a purchase offer appears on the channel page below the video window and they can earn money from selling games or in-game items.
However, today we are going to focus on how it is possible to insert affiliate links on Twitch while being enrolled in Amazon Associates.
If you happen to be a gaming snob, interested in building a business on the number one ecommerce platform in the world; and yes, we're talking about Amazon, read on to learn more!
What Is Twitch?
Twitch is an American video-game live streaming platform founded by Justin Kan, which has gained popularity in the last few years. It was officially released in beta version on June 6th, 2011 and it was well received by gaming fans all over the world.
According to Business of Apps, the pandemic played an important role in the growth and consolidation of the platform, reporting an awestriking spike of 5 million streamers in March 2020 and over 7 million in April 2020.
Twitch and Amazon Joining Forces
It is important to point out that Amazon and Twitch's partnership dates back to 2014. However, Twitch's staggering growth during the pandemic definitely caught Amazon's attention, which then led to the creation of new alliances that continue to benefit both platforms.
On September 1, 2021, Amazon Music and Twitch partnered to combine live streaming with on-demand listening, allowing artists around the world to connect live with Amazon's Music more than 55 million Amazon Music customers through Twitch.
Here is the official communiqué published on press.aboutamazon.com:
"…We're providing artists with more tools to instantly engage with fans, and this new feature couldn't arrive at a more crucial time in the industry. More than 1,000 artists have already connected their Amazon Music accounts to Twitch, and this is just day one. Together with Twitch, we're making it possible for artists across all genres, at all moments of their careers, to harness the social power of live streaming to create more engagement with their recorded catalog." — Ryan Redington, Director of Amazon Music.
Twitch Affiliate Links: Make Extra Cash with Amazon Associates
One way Twitch streamers make extra money is through affiliate links with Amazon Associates.
To join this program and start monetizing, you must be a Youtuber, have a website, a blog, or in this case, a Twitch channel. Also, you have to describe the purpose of the channel, the reason why you created it, your target audience, and how you drive traffic to it.
(Not to mention referral links will also help you fund your channel and motivate you to continue broadcasting quality content.)
Some of the general rules include, but are not limited to:
Stating on your channels that you earn referrals from purchases.
Not making false claims in your recommendations.
Avoid referring to prices.
Not using Amazon Affiliate links in offline promotions, eBooks, and emails.
Making sure that you suggest products related to your niche.
And most importantly, don't promote something you wouldn't buy as a consumer!
Additional Tips
One of the great advantages of having a channel on Twitch is that, through these live streams, your followers can look at the equipment, video game consoles, and even furniture you use. And if they're already consolidated fans, they'll definitely want to buy them!
We also recommend you to have an Amazon Store. There, your followers will be able to browse through your favorite picks and potentially purchase your merch.
Promoting Your Amazon Products on Twitch
Making your Amazon picks available to your followers on Twitch is easier than you think. There are currently two ways of doing it:
1. Adding Affiliate Text Links
2. Promoting Your PC Build & Gear List
Here's what you have to do in each case:
#1 – How to Add Affiliate Text Links
1. Make a list of all your Amazon picks, and copy the URL.
2. Add your Associate Tracking ID at the end of each link.
3. Ensure all your items are clickable by inserting the links right below your player. You can do this by switching the On button.
4. Finally, paste the URL in the description.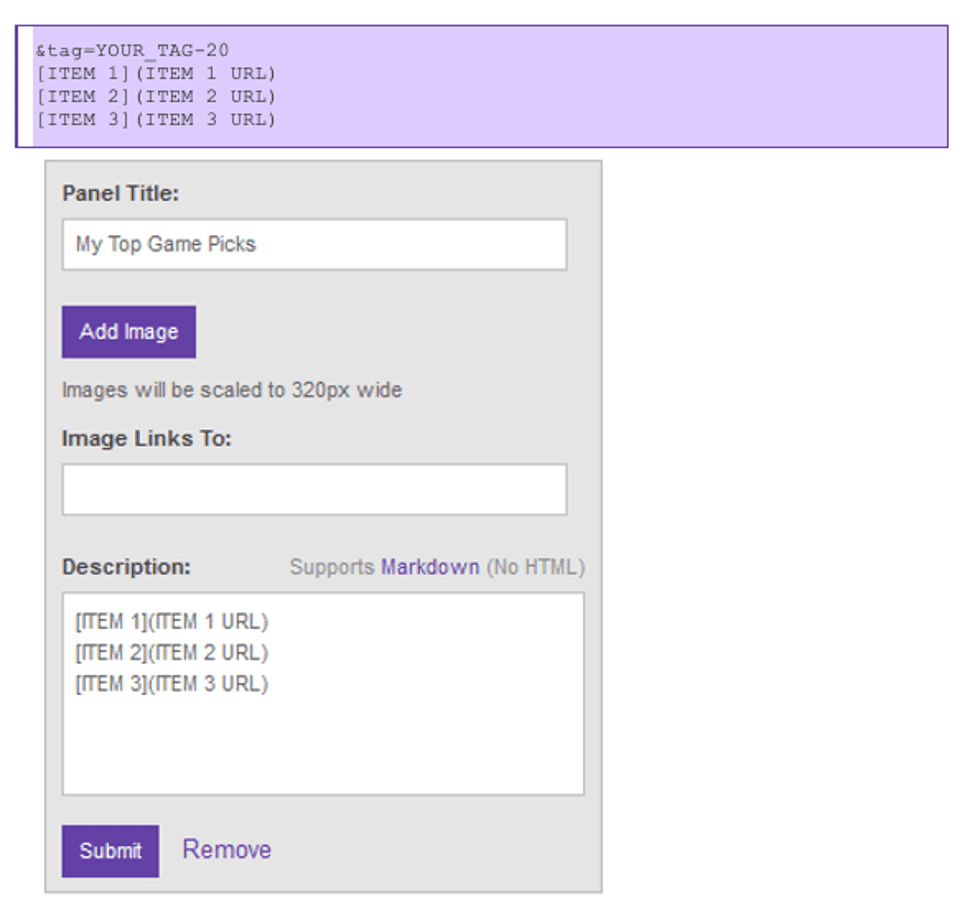 Image: Help.Twitch.TV
#2 – Promoting Your PC Build & Gear List
If you're all about the aesthetics and don't want to add affiliate text links to your description because it might look a bit messy, you can create an Amazon Wish List (from your Amazon Associates account), with all your favorite items to share with your audience.
You can use one of the Twitch buttons below and make it look nicer.
Image: Help.Twitch.TV
Creating an Amazon Wish List to promote on Twitch
Go to your Amazon Wishlists.
Create a new list and name it. Example: My Gaming Gear
Add your items to the Wish List.
Select Add comments, quantity and priority to mark all the items as purchased ("has" = 1) and then filter only by purchased.
Include your Associate Tracking ID to the URL "&tag=YOUR_TAG-20".
Use this URL to hyperlink one of the Amazon buttons that we previously showed you below and add it to your channel.
Make your link clickable switching the On button.
Upload the image of the button.
Paste the URL to the URL area, and then click Save.
Check out this video to learn more:
Other Ways to Make Money on Twitch
As we mentioned before, there are other ways to earn extra income from Twitch. And one of them is running ads.
This of course will make your followers or viewers have a more complete experience.
These ads work in the same way as on YouTube. You choose the moment of your stream in which the ad will appear, since when your followers see them, you will be able to monetize.
These are some of the ways you can do it:
Let your followers know that an ad is about to appear. Believe me, as a viewer, it is appreciated to know when the ad will arrive.
Don't over do it. Neither at the beginning, nor at the end of your stream. This will demotivate your audience and you will lose followers.
Start with one minute of ads every hour. This will allow you to gradually increase the quantity and frequency of your ads.
Visit the Twitch's Creator Camp page to learn more about this great opportunity.
Closing Thoughts
Now that you know how Twitch affiliate links work, we hope you take the next step in your streamer career and start monetizing as soon as possible.
Followers always appreciate recommendations from their favorite content creators. And the fact that you also have external channels, such as an Amazon Store with your favorite picks, will allow you to create an even more personalized relationship with your audience.