It's not always easy to find a marketing agency that suits your business needs. In the US alone, you can find over 200 marketing firms. There's plenty to choose from! However, choosing the wrong match may cost you sales and profit. 
Marketing strategies can make or break an eCommerce business. It's not something you want to leave unchecked. That's why we've gathered some expert tips to help you hire the best marketing agency for your business.
What Makes a Marketing Agency A Good Fit Your Business?
Marketing agencies can offer a wide array of services. For example, content creation and management, branding, mailing, website and social media ads. 
But it all comes down to your own objectives and needs, of course. Make sure you understand your marketing goals before searching for an agency. 
It's also crucial to know your in-house capabilities. That's the type of data that will help a marketing agency map out a successful plan for you.  
For instance: 
Scope the project. The firm lists the work tasks at hand, based on the available budget. 
Resource assessment. They'll review the tools at hand to fulfill the project with success. 
Strategy proposal. Based on the data collected, the agency will present a marketing strategy. This may include ad spending, engagement campaigns, or social media tactics. 
Execution. When the strategy's approved, the marketing agency will execute it while keeping the client in the loop of the process. 
Note that this is only a general view. Each marketing agency will go about this assessment in a different way. 
Why's that? Because each agency will offer a unique approach to their work. 
That's what makes finding a high-quality marketing agency –that's also a good fit for you– so hard. But it's not an impossible task, though.
Here's what you need to check to find a marketing agency.
Do your research
Don't rely on testimonials alone to find a marketing agency. Some may be honest appraisals. Others, however, may be fabricated statements to boost the firm's reputation. 
It's always best to rely on the source. That means talking to past clients. Ask them for direct testimonials on their expertise. 
This is a key step, because you must trust in your marketing agency. Plus, you must be confident they'll deliver what you need. 
"If you can't trust your agency to get the work done, or if the deliverables don't meet your needs, the relationship will never work. Once that's in place, raw knowledge is a close third."
Ramiro Velasco, Director of Client Success at AMZ Advisers
Also, check if the agency has online reviews. Take a dive into google, yelp and social media to see what others have to say about their performance. 
Experience is everything
Beside reviews, it's crucial to evaluate an agency's past experience. Some firms offer a few case studies on their websites.
Case studies can help determine where the agency's experience lies. You may find a marketing agency that's delivered results for businesses similar to yours. 
You may also find that a specific agency offers the services you need to drive conversions. So, make sure you take a close look at said case studies. 
As with the previous step, conduct some interviews with an agency's past clients. And also reach out to the agency. State the solutions you're looking for, and ask for their background on the matter. 
Appraise their pricing tiers
Your budget also plays a key role when hiring a new marketing agency. Low-charging agencies may be small or starting firms. That does not mean they are bad at what they do. 
The same applies to established, high-rated agencies. Their price and rep may be justified. However, they may offer more than what you really need to succeed.  
Luckily, there are a few guidelines to make an informed decision. Here are 4 compensation models to consider: 
Project based. It's a flat rate, based on a specific marketing project. The agency may set up a dedicated team to focus on the task until completion.
Retainer. A good old-fashioned monthly fee. You pay the marketing agency for their ongoing services. This is ideal when handing out the marketing task to an outside partner. 
Hourly rate. It's more suited for freelancers or small agencies. Hourly rates consider work materials and the time estimate for specific projects. 
Performance. It's similar to commissions. Both parties set a fixed performance metric. Then, the agency may receive compensation, based on the successful outcome of their job.
Pricing should be set at the end of the research process. No business has the same needs. Good marketing agencies will look at what you need, and offer catered packages to help you out.  
Find the Right Team
Small projects like a single product launch, don't always need a full team on board. In such cases, it's best to go with small firms. Only make sure they offer a reasonable retainer. 
When you're looking for a full marketing service, then a big firm may be the answer. Some agencies offer custom packages to suit their clients' needs.
"Relationships are built on communication. Find a marketing agency that's going to be open and honest with you.
Go with the one who is willing to tailor a business strategy according to your needs, not only the agency's."
Yasmine Jabado, Director of Account Management at AMZ Advisers
Conduct a hiring process
Think of your future marketing agency as a potential employer. That'll make the selection process a bit more straightforward.
Here are some tips:
Select the best candidates for the position.  
Review and compare their merits and experience. 
Check if they'll be a cultural fit for you. 
Your ideal marketing agency will focus on your success. They have the experience to solve your specific needs. 
"Ecommerce success is not linear nor easy to achieve.
Finding an agency that understands you, your product, and what you want, is key."
Laura Theil, Account Manager at AMZ Advisers
As your business partners, your marketing agency will devise custom strategies to help you reach your goals. Plus, they will also share your values. 
Final Thoughts
No marketing firm is the same as the other. There is no general rule of thumb when comparing agencies. Every single one will take a unique approach to your needs. Remember, it's not about finding the most profitable partner, but the one that complements your success. 
Follow the tactics laid out above, and conduct a thorough search process. Take what you've learned today, and you'll find YOUR best marketing partner in no time. 
Author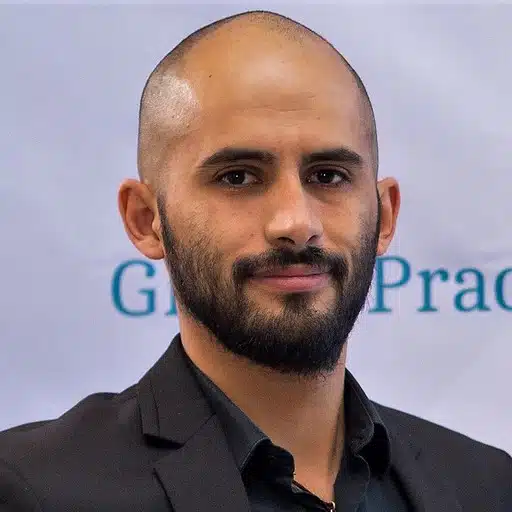 Esteban Muñoz is an SEO copywriter at AMZ Advisers, with several years' experience in digital marketing and e-commerce. Esteban and the AMZ Advisers team have been able to achieve incredible growth on the Amazon platform for their clients by optimizing and managing their accounts and creating in-depth content marketing strategies.