Back in late 2021, Amazon Ads was third in the US digital advertising race. The retail giant held 14.6% of the market share.
Jump forward to Q2 2022; Amazon Ads reported an 18% growth, reaching $8.76 billion. It only took a few months for Amazon to beat players like Google ads!
Amazon ads are key to seller success. It's the ingredient that will attract more conversions. Pair it up with great SEO and product listings, and you'll boost revenue in no time!
What are Amazon Ads?
Simply put, Amazon ads are the bread and butter of Amazon Advertising. The retail giant launched this service back in 2018. Its goal is to help brands promote their products on and off the marketplace.
Amazon Advertising also features a Demand Side Platform, or DSP. With this tool, brands can showcase desktop, mobile and video ads to target customers on and off Amazon.
The service works via pay-per-click advertising. This means brands pay Amazon a fee for each click one of their ads gets.
Now, Amazon Ads are closely related to SEO rates. This means that, if your product has great keywords and reviews, it'll improve its chances of attracting customers.
Speaking of keywords, Amazon PPC relies on keyword bidding. This means you can place a bid to rank for specific keywords.
Once you get the bid, users that type in the specific term will find your ad on Amazon. Now, the next question is: Where do you want users to find your Amazon ads? 
Types of Amazon Ads
Brands shouldn't create an Amazon marketing strategy from scratch. First, you should know the types of ads available, and how to optimize Amazon ads.
Sponsored Display
Unlike the previous examples, sponsored display ads don't rely on keywords. They instead track users on and off Amazon for 30 days.
Amazon showcases these ads in product listings, search results, and the Top Deals page. However, sponsored display ads are more prominent in the mobile app.
Image source: HubSpot
Brands can then review a user's tracking data to fine-tune their ads to meet the behavior of target customers. Thus, you can showcase ads that cater to specific consumer interests.
In short, sponsored display ads can delight customers directly and foster higher conversion rates.
Sponsored Products
These are the 'basic' PPC Amazon ads, but that doesn't mean they're not effective. It only means they are easy to set up.
Sponsored products work in a similar way to Google ads. Each can showcase a single product and appear on Amazon's results. Or, you can also bid to place them in specific product pages.
Now, what does it take to create this type of ad? Simple: one ASIN to promote, a daily budget, and a few target keywords.
Image source: WordStream
These ads feature automatic keyword targeting. That means the A9 algorithm will select and target the most relevant terms based on the advertised product.
But sellers can also choose the manual targeting approach. In this case, there are 3 types of keywords you can bid on:
Broad. Complement the target keyword with extra terms. It's ideal to increase traffic and reach.
Phrase. It's almost like bidding for long-tail keywords. You create an exact phrase for the ad, which can help you find users already interested in your product.
Exact. This one is far more restrictive. Your ad will only appear to users who type in the exact keyword that you use.  
Sponsored Brands
A few brands call these headline search ads. Sponsored brands are also PPC ads, with a few extra perks. First off, they're used to showcase up to three products in one space.
They are also more customizable than sponsored products. For example: You can include unique images and copy to highlight your brand presence on Amazon.
Image source: WordStream
Sponsored brands also benefit from 3 specific types of keywords:
Branded product keywords. These search terms attach your brand name to your products. It's great to attract followers and returning customers.
Complimentary product keywords.  Use two context-related keywords that influence each other. For example, 'mustard' and 'ketchup.'
Automatic targeting keywords. Take and reuse the successful search terms from a sponsored product ad. 
Amazon Native Ads
Native ads work off-Amazon. That means sellers can showcase them on their own websites. This is quite useful when Amazon is your main sales platform.
Image source: HubSpot
There are 3 types of Amazon native ads you can create:
Recommendation ads. Best used in brand or item-related content to showcase new product offers based on the customer's interests.
Search ads. These ads use relevant keywords, so customers can find product listings on your website or on Amazon itself.
Custom ads. With this perk, you can select which products to promote within your website.
Native ads are all about location. Each ad must be relevant to the page where you'll showcase it. Make it natural for customers to go from great content into great products.
Amazon Video Ads
Video ads let you showcase your product across Amazon-owned websites, such as IMDb. You can also find them on Fire TV.
Amazon video ads are available for all sellers, but non-Amazon brands can also use video ads. Plus, you can include follow-to links into your Amazon store or into your main site. 
Amazon Stores
Now, this may not be a traditional ad. That said, Amazon Stores is a great tool to connect your listings and promote your brand.
Image source: HubSpot
Think of Stores as an Amazon-hosted landing page. It's a space where customers can find what you can offer and share the values that make your brand special.
You can customize Amazon stores with a unique design and copy that defines your brands. You can also create a vanity URL to help followers find you in a flash. 
How Much Do Amazon Ads Cost?
We can't let you go without learning how Amazon Ads spending works. It's all based on daily CPC goals.
Sellers can allocate a daily ad spend for their campaigns. However, you won't always use the complete budget. This is due to Amazon's bidding regulations.
You can set up your Amazon campaign bidding strategy in one of three ways:
Fixed bids will use the complete daily ad budget – unless you adjust the bid manually.
Dynamic bids (down) will reduce your bid spend. This happens when Amazon considers an ad won't attract a lot of conversions.
Dynamic bids (up and down) can regulate your bid depending on the ad's engagement. So, the more clicks you get, the more you'll spend, and vice versa.
Note that Amazon will never spend more than the actual bid you submit. And how much you spend depends on your own goals as a seller.
For example, you can set up your CPC budget to increase sales, or to drive awareness. You can also set your ad spend to boost your Average Cost of Sales (ACoS).
If you're unsure about some of your ad goals, you can always consult with our Amazon experts!
Final Thoughts
Amazon is not only outpacing its ecommerce rivals. The retail giant is also going strong in the advertising market.
More and more sellers choose Amazon Ads as their go-to advertising platform. That said, running successful Amazon Ads takes time.
You may struggle at first, but keep at it. Research, test, analyze and tweak your ads until you find the best marketing strategy for your store.
Eventually, your Amazon ads strategy will not only get more eyes on your listings. It will also drive higher returns from the marketplace!
Author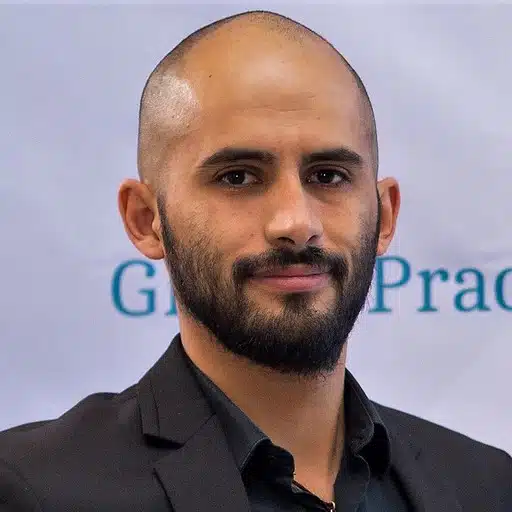 Esteban Muñoz is a content writer at AMZ Advisers, with several years' experience in digital marketing and e-commerce. Esteban and the AMZ Advisers team have been able to achieve incredible growth on Amazon for their clients by optimizing and managing their accounts, and creating in-depth content marketing strategies.