Halloween is one of the most beloved holidays. Seeing spooky decorations, wearing fun costumes, and eating candy can boost anyone's serotonin. This is why 148 million Americans celebrate Halloween every year.
If you own an e-commerce store, you know Halloween is one of the best seasonal events. Your customers will need Halloween costumes, candy, and decorations. 
Goth-inspired interior decor is a massive trend–and what better time to buy all these frightening products than during the scariest time of the year?
Continue reading to discover how to prepare for Amazon Halloween, which products you should sell, and how to market your spooky inventory. All of this will result in a season full of frights and sales!
Why Is Amazon Halloween Important?
Halloween dates back more than 2,000 years. All Hallows Eve as we know it today stemmed from the Celtic New Year, called Samhain. Samhain occurred on November 1st, and it was believed the New Year thinned the worlds between the living and the dead.
While most of your consumers won't believe spirits will rise from the dead, they will still see Halloween as an excuse to wear a costume and buy scary products. 
65% of consumers do Halloween shopping online, so users don't have to walk into their local Halloween store to purchase their costumes and decorations. There are some best practices to know before creating a Halloween sales and marketing strategy, though. For example, know if your consumers will celebrate Halloween. It's a popular holiday in the USA and Canada, and is also celebrated throughout Latin America and Europe.
Which Amazon Halloween Products Should You Sell?
Halloween is more than tricks and treats. As an e-commerce seller, you must sell the right products to get your consumers in the mood for the spooky season. 
There are a few different items that are more popular during All Hallows Eve that every store should prioritize. 
Halloween Costumes
The tradition of wearing Halloween costumes also began during Samhain, when the Celts would dress up to ward off ghosts. People today also take wearing Halloween costumes seriously–so much so that we spend $3.6 billion on spooky outfits.
Which Halloween costumes are the most popular? If you have the money to source licensed merchandise, characters from TV shows and films are the most popular option.
There are other timeless Amazon Halloween costumes you can score for less. These include dinosaurs, animals (specifically cats and rabbits), and pumpkins. 
Halloween masks (such as scarecrows, clowns, skulls, and mummies) and makeup are also favorites among consumers. 
Candy
Handing out candy is an integral part of Halloween. This tradition also started during Samhain, when the Celts offered nuts and fruit to appease their gods. Today, we all know this practice is now called trick or treating.
Since parents spend a whopping $3.2 billion on candy, this is the first Amazon Halloween product that eCommerce sellers gravitate toward. Which candy should you sell? Reese's Peanut Butter Cups are the most popular option. 
But should you buy name-brand candy? While name-brand candy always wins, it can be expensive for you and your customers. Instead, sell off-brand chocolate and inexpensive treats, such as popcorn.
Decorations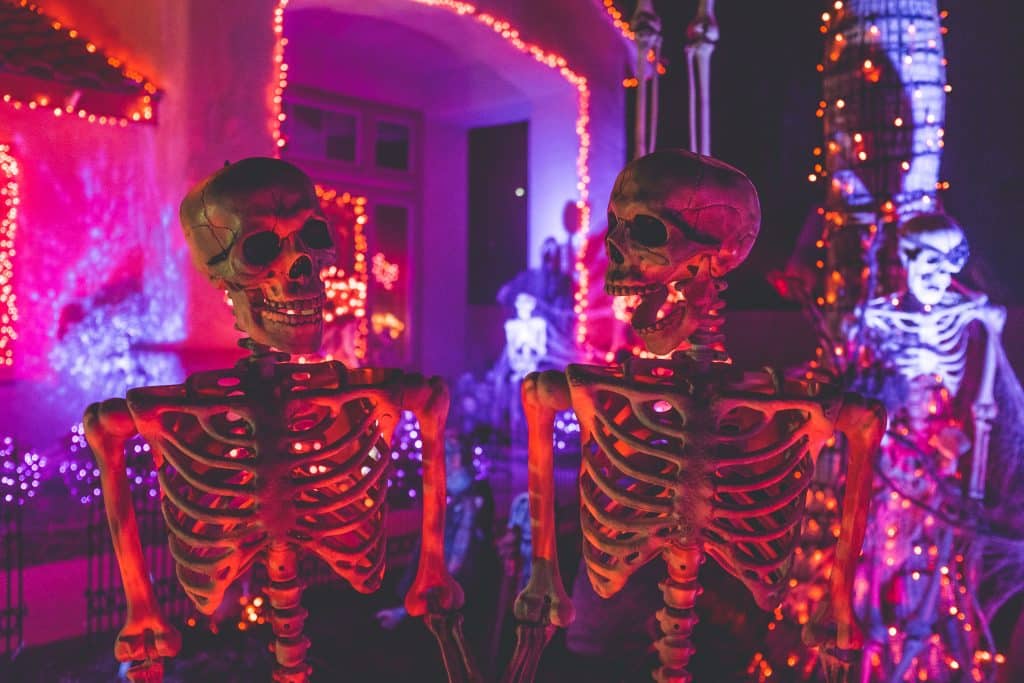 Like lights, Amazon Halloween decorations create a spooky atmosphere for the scary season. The average American spends $31.89 on Halloween decorations. And since you don't have to worry about branded or licensed items, sourcing Halloween decorations is simple for many brands.
You can also sell different types of Halloween decorations. Popular choices include plastic skeletons, fake pumpkins, fabric spider webs, and ghost figurines.
Halloween Lights
Whether you want to create a spooky atmosphere for trick-or-treaters or host a late-night Halloween party, scary lights are always a timeless and inexpensive addition to any scary setting.
E-commerce stores should sell Amazon Halloween lights with themed bulbs, such as jack-o-lanterns. Source lights that users can display indoors and outdoors, so they can create Halloween vibes in every part of the home.
How to Prepare for Amazon Halloween
Now that you know which products to sell, it's time to prepare your sales and marketing strategy to compete against other Halloween stores. 
This includes knowing what your customers are demanding, creating the best listings, marketing your items, and the best way to display them on your Amazon store.
Research the Market
Even though we mentioned the most popular Amazon Halloween products, these may not be the items your customers demand. For example, if you sell self-care items, your consumers may prefer buying Halloween-themed candles instead of decorations.
How do you know what your consumers demand? Research your target market. Fortunately, Amazon offers many tools to do this–and many are available for free. 
These include the "customers also bought" section and Amazon's Best Selling page (you can find Halloween items here during the season). Amazon has an FBA calculator you can use to see if any items you source are worth the investment.
There are also various third-party tools you can use, specifically product research and trend report software.
Conducting customer research is integral before selling any new products. You'll not only get more sales but won't be stuck with unused inventory and hope you'll sell it on your end-of-the-year sales.
Source Halloween Products
Once you know which products to sell, you'll want to source them in advance to stock up by the time your consumers are ready to shop. This is important since Halloween makes a big portion of Q4 sales on Amazon. 
Fortunately, many Amazon Halloween and holiday-themed wholesale suppliers provide toys, candy, games, crafts, decor, and more. 
You can also dropship Halloween products on Amazon.
Create an Amazon SEO Strategy
Since 44% of product searches begin on Amazon, you must take Amazon Halloween SEO seriously. 
The first step in any SEO strategy is to research keywords. Choose Halloween-themed keywords that relate to your products. The keywords you optimize should have high monthly searches and low competition.
Once you have a primary keyword, find at least five secondary search terms. We'll explain in the next section how to use these keywords.
Optimize Your Amazon Halloween Listings
When you find your search terms, use the main keyword in the headline, features, and descriptions. Sprinkle the other keywords wherever they fit. 
You want your content to sound natural. Amazon explains that keyword stuffing will only work against you, so don't try to throw off the algorithms by repeating different search terms.
Your content should also be detailed and helpful to users. Share all specs and features so customers feel comfortable knowing they're making a high-quality purchase.
You'll also want to upload clear product images. Your customers don't see the item in person, so upload multiple camera angles and include zoomed-in and out photos. Amazon lets you upload nine images, but the five-to-eight range is ideal.
Create an Amazon Halloween Shop
If you have an Amazon storefront, creating a Halloween section will let your devoted customers know where to find your limited-edition spooky items. 
You can easily create a new section by going to the editor, clicking a blank tile, and selecting "add new section." From here, you can customize your Halloween section and add your scary products!
Have a Spooky Amazon Halloween!
Halloween is one of the most versatile holidays. While many people love dressing up and passing out candy, others love decorating their homes for the spooky season. Plus, many consumers love novelty Halloween products, such as self-care items, crafts, and games.
No matter what you sell, you can boost sales by selling limited-edition Halloween products.
To prepare for Amazon Halloween, conduct market research and source your products in advance. You'll also want to plan your marketing and SEO strategy. Create a Halloween section on your Amazon storefront, so your devoted customers can easily find your scary inventory.
Have you taken advantage of Halloween and other holidays and never experienced success? We can help unlock your full potential. Click here to learn more about our services.
Authors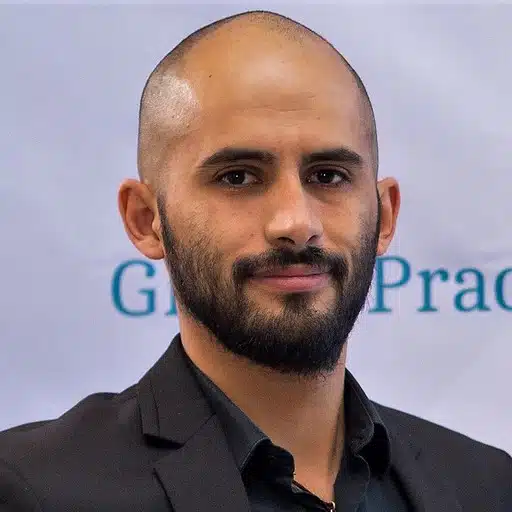 Esteban Muñoz is a content writer at AMZ Advisers, with several years' experience in digital marketing and e-commerce. Esteban and the AMZ Advisers team have been able to achieve incredible growth on Amazon for their clients by optimizing and managing their accounts, and creating in-depth content marketing strategies.
Stephanie Jensen has been writing e-commerce content for seven years, and her copy has helped numerous stores rank on Amazon. Follow her on LinkedIn for more insight into freelance writing and creating high-quality content.