Think of an Amazon FBA coach as a trainer that will prepare you to compete at your highest level. With their help, sellers can get a better grip on the inner workings of Amazon.
You dream of being your own boss and selling products to buyers nationwide. That's why you decided to set up your shop on Amazon. 
Is it profitable to do Amazon FBA? Absolutely! Many sellers choose Amazon's FBA platform since they can still operate their stores without worrying about storing and shipping their products. 
Unfortunately for you, nearly 2 million other sellers take advantage of these benefits, creating a lot of competition.
There are many ways that sellers can improve their business and operations, and many turn to an Amazon FBA coach for advice. But is hiring an FBA coach worth it?
Choosing the right coach is tricky. You'll find many claimants to the title, offering mentoring services to Amazon brands. 
Plus, there's also the matter of costs, results, and knowing what an Amazon FBA coach actually does. And more importantly, is hiring an FBA coach worth it?
What Is an Amazon FBA Coach?
An Amazon FBA coach is someone who helps sellers make strategic decisions in their business. But what does an Amazon FBA Coach do, exactly? 
Their tasks include identifying strengths versus weaknesses, knowing the most profitable products, and other tactics that can maximize products.
This individual already knows the ins and outs of FBA. Chances are they have or have had an Amazon store of their own. So, an Amazon FBA coach has the experiences that can help you attract users and drive sales. 
But an Amazon FBA coach will not only teach you how to sell. They can also guide your long-term growth on Amazon.
Now, you don't need an Amazon FBA coach to be a successful e-commerce brand. However, coaches will enhance your selling knowledge, so you can succeed quicker than your competitors.
Is an Amazon FBA Coach Worth It?
There are pros and cons to Amazon FBA coaches and courses. For example: 
Con.

It can be difficult to know the knowledge and experience of a coach right off the bat. 

Pro.

You can learn a lot about selling on Amazon and make some great business connections along the way.
Our advice is to not spend too much at first until you know that the coach is a good fit for you. To pick an Amazon FBA coach, use the factors we will suggest in the next section to ensure your money will go toward a good thing.
But if you plan on spending thousands of dollars toward coaching and courses, consider using that money toward advertising and marketing instead. 
In addition to hiring an Amazon coach, sellers can also take FBA courses. These don't offer strategic decision-making, but they do inform sellers of the ins and outs of online retail.
About Amazon FBA
Let's remember the basics of Amazon FBA before moving on. Fulfillment by Amazon (FBA) allows 3P sellers to rely on Amazon's logistical capabilities. When using FBA, brands take care of the following:
 

Product sourcing

Product pricing
Amazon then takes care of the following perks for a $39.99 monthly fee:
Shipping and delivery

Customer Service

Access to

Amazon Prime
There are other roads to success on Amazon, like Fulfillment by Merchant (FBM). However, FBA allows sellers to pass the logistics ball to Amazon. In doing so, brands can focus on improving their reach and sales.
What Should I Look for in an Amazon FBA Coach?
As we said, you don't really need an Amazon FBA Coach. Most sellers can access free resources to learn the inner workings of Amazon. That said, there's nothing wrong with taking a short cut. 
Even though an Amazon FBA coach isn't necessary, hiring one will jumpstart your store's success. But before you search for a mentor, ask yourself why you need one. 
Your motivations will clarify your goals, which will help you find the best Amazon FBA coach for you. Plus, having clear goals can help a mentor map out a strategy that suits your business needs.
Once you're clear about your goals,be sure to use one of these factors to find the best coach.
Results
A successful Amazon FBA coach has a portfolio of other stores they helped. Look at their portfolio and see the results the mentor brought them. 
Pay attention to their strategy, where the seller was in their e-commerce ownership, any pain points the seller struggled with, and profit margins.
Expertise
Ideally, your Amazon mentor should have experience selling on the platform. See the success of their Amazon store and how they got there.
Remember that not all Amazon coaches have stores of their own, but they gained their credentials in other ways. Note their experience and how their expertise can assist you.
Teamwork
A mentorship is a business relationship. You'll want your coach to work with you and be respectful of what your business has already achieved. 
As a seller, you'll also need to trust your coach. They will learn the ins and outs of your business, and you need to feel comfortable sharing sensitive information with them. 
In addition, your personalities need to be compatible. If you two are working against each other, the mentorship won't work.
How do you know you can trust and work with a certain mentor? Ask if they have a trial period. This way, you can assess a coach's skills, and if you have a compatible business relationship. 
Niche
If you can, find an Amazon FBA coach in your niche. This way, they understand your industry and help other e-commerce stores that sell similar products as yours. 
A niche Amazon coach can also educate you on your target audience, the most profitable products to sell, competition, and more. 
Types of Amazon FBA Coaching
Before onboarding the first coach that you find, it's important to know the different types of Amazon coaching. These types fit different learning abilities, and some are more budget-friendly than others.
Coaching Groups
Instead of hiring one mentor, you can have a group membership. This is more of a classroom-type mentorship, with one coach teaching various students. They may be in the form of weekly Zoom calls, AMAs, or you'll receive exclusive resources. 
In these groups, you learn new growth strategies and share ideas with your peers. These groups are also a great way to meet business connections and learn how they're achieving their success. 
If nothing else, you'll gain more in-depth knowledge of Amazon FBA and how to take your store to new levels.
One-on-One Mentorship
Private mentorship is what most people think of when the term "Amazon FBA coach" comes up. These coaches will invest their time only in your business, though some offer mentorship services where they coach various stores individually. 
They will take a deep look into your business, understanding your current operations and finding opportunities you looked past.
The main con of a private mentorship is that it's more expensive than group classes and individual courses. But you'll receive personalized attention from an expert, so you'll have a better chance of achieving your ROI.
Amazon FBA Courses
Amazon courses are a more cost-friendly option. These courses are very accessible; you can find them on major platforms like Udemy, and sellers may host their own private courses. 
Sellers can find Amazon FBA courses at different price points–you may even find courses for free. You can find Amazon courses for every tactic. For instance:
Starting an Amazon course

Buying inventory on a tight budget

Dropshipping

and private label

Advertising/marketing
Many sellers prefer courses because they're flexible. As an e-commerce business owner, your schedule is already pretty packed. Most courses let you move through the lessons at your own pace, so you can devote plenty of time to your business.
As a con, Amazon courses aren't personal and offer run-of-the-mill advice. But they're a great option for those new to selling or who need answers to specific pain points.
Costs of FBA Coaches
The price you pay for your FBA coach or classes depends.
 In the end, it's all about reviewing all options to make the best decision for yourself. To do so, make sure you consider the following:
Uproot snake oil salesmen.

Contact other sellers and ask for their experience with an Amazon FBA coach. This way, you'll know who to trust before you begin a mentorship.

Verify all statements.

Mentors should back up their expertise. Try to find some data that supports the claims they make.

Double check.

Do not take a coaches' insights at face value. Find second opinions to back up all data. It'll save you a few bumps along the road.

Protect your investment.

See if a mentor offers some free resources that can help you make more informed decisions. 
Here are the general costs you can expect.
FBA Coach Cost
The cost of an FBA coach depends on if you're paying for private mentorship or a class. Mentor costs vary between $200 and over $1,000. Some may charge these fees per month, while others may only request a percentage of your sales, like Amazon itself.
FBA group classes are usually cheaper, but costs still vary. The coaches charge a subscription fee, usually on a monthly or annual basis.
Regardless of the option you choose, make sure there's a money-back guarantee and other factors in the fine print.
Costs of FBA Courses
How much does an Amazon FBA course cost? FBA courses usually range in price from $20 to over $100. These are available at a fixed rate, and you pay per course. Some courses may also give you the option to pay in monthly installments.
Free Options
You should also first look at free coaching in terms of blogs, podcasts, and videos. Follow Amazon influencers on social media, specifically YouTube and LinkedIn, for free advice. Forums such as Reddit and Quora also offer lots of advice for Amazon FBA sellers.
An Alternative to an Amazon FBA Coach
Is everyone successful on Amazon FBA? If you have been using Amazon's FBA program for a long time, you probably know the answer to that question. Plus, the fact that over 2 million sellers are taking advantage of Amazon FBA speaks for itself.
Those are a lot of brands to stand out from, however. Here's where an Amazon FBA coach may offer an edge. All it takes is a bit of research to find the right fit for you.
However, this option may not be the best for all sellers. That's because you may already know how to achieve more sales. You'll just need extra assistance to make that happen.
AMZ Advisers offer full-service e-commerce solutions to improve your marketing and inventory management. We'll manage multiple aspects of your business, so you can focus on what's important.
Click here to learn more about our services.
Authors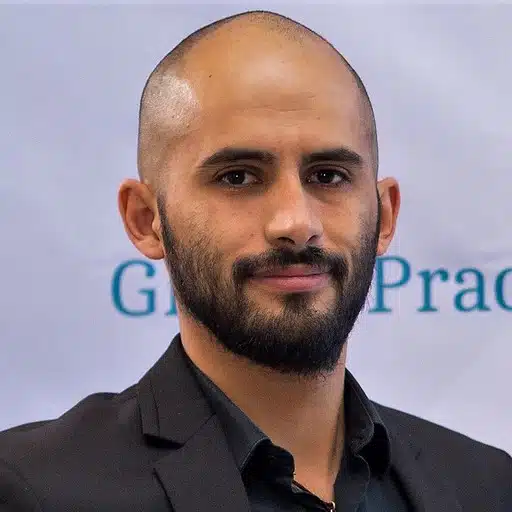 Esteban Muñoz is a content writer at AMZ Advisers, with several years' experience in digital marketing and e-commerce. Esteban and the AMZ Advisers team have been able to achieve incredible growth on Amazon for their clients by optimizing and managing their accounts, and creating in-depth content marketing strategies.
Stephanie Jensen has been writing e-commerce content for seven years, and her copy has helped numerous stores rank on Amazon. Follow her on LinkedIn for more insight into freelance writing and creating high-quality content.