Black Friday 2023 promises a whirlwind of deals, a cascade of discounts, and a symphony of shopping carts filling to the brim. 
As the anticipation builds, both consumers and retailers mark their calendars, readying themselves for one of the grandest sales events of the year.
This isn't just another shopping day; it's an annual ritual, a dance of supply and demand, especially in the online shopping arena. Last year, almost seven out of 10 consumers shopped online–double the number of people who shopped in person.
Let's dive deep into the history, the hype, and the heart of Black Friday. We'll also discuss tips on how to make Black Friday 2023 your most profitable one yet.
Black Friday Evolution
Before we tackle Black Friday 2023, let's take a step back and learn about its humble origins.
In the late 19th and early 20th centuries, the day after Thanksgiving marked the unofficial start of the Christmas shopping season. However, the term "Black Friday" originally had a negative connotation. 
Philadelphia police used it in the 1960s to describe the heavy pedestrian and vehicular traffic that would clog the city's streets the day after Thanksgiving. The name stuck, but its meaning evolved. 
By the 1980s, a more positive spin emerged. Retailers redefined Black Friday as a day when their balance sheets would move from "red" (loss) to "black" (profit), thanks to the surge in post-Thanksgiving sales.
With the rise of the internet and eCommerce in the 21st century, Black Friday began its transformation from a one-day in-store shopping event to a multi-day, multi-platform sales extravaganza. 
The shopping mania extended online, leading to the birth of Cyber Monday in 2005, a day dedicated to online sales.
Black Friday is still the most popular in the US. However, it's also become a widely recognized sales and deals season in other parts of the globe, including Europe, South America, and Asia.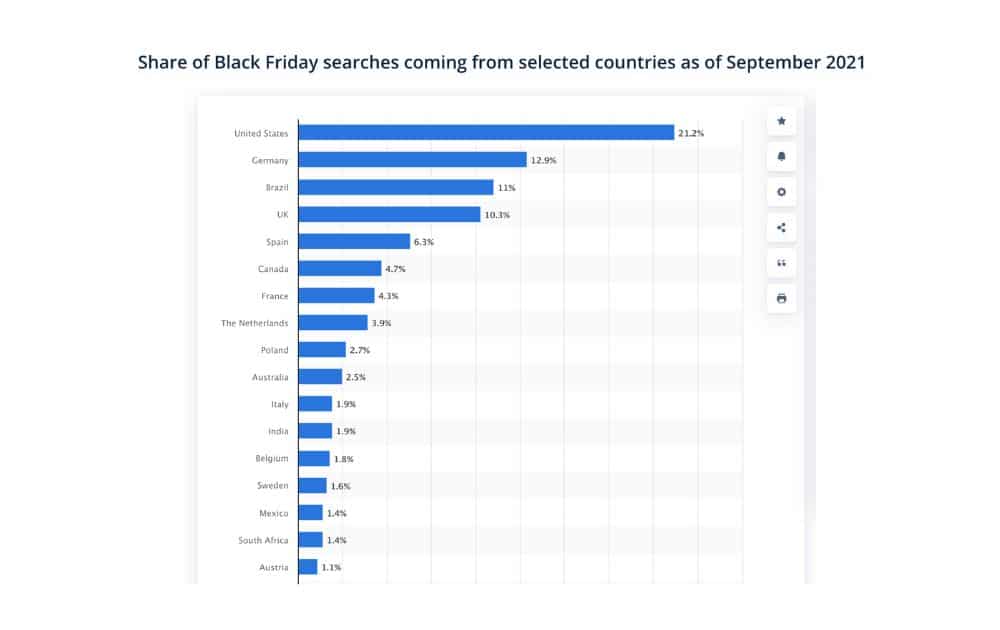 With advancements in technology, the rise of social media marketing, and the global reach of eCommerce, Black Friday 2023 promises to be bigger, bolder, and more digital than ever before.
The Competitive Landscape
Competition among retailers escalates with each passing year. It's driven by consumers' insatiable appetite for the best 2023 Black Friday deals, and the retailers' relentless pursuit of market share.
To give you an idea of typical bestsellers, the product categories with the highest Black Friday Deals in Walmart and Amazon in 2021 include home, sports, beauty, and fashion.
For 2023 Black Friday, the advertising drumbeat has already begun months in advance. You've surely seen many teaser campaigns, sneak peeks, and early-bird specials designed to build anticipation and loyalty.
Standing Out
With every seller trying to get a big slice of the pie, the retail industry will get extra crowded in time for Black Friday 2023. 
Here are a few ways to stand out from your competition this year:
Innovation

. In 2023, the shopping experience will not just be about price cuts. Retailers leverage technology to offer augmented reality (AR) shopping experiences, virtual try-ons, and interactive online catalogs. These tech-driven features provide consumers with a richer, more immersive shopping journey.

Personalization

. Retailers use advanced analytics to understand consumer preferences, shopping habits, and past purchases. This allows them to tailor deals to individual consumers, offering targeted promotions that resonate on a personal level.

Exclusivity

. To truly differentiate themselves, retailers offer exclusive deals that can't be found anywhere else. For example, a limited-edition product, a special bundle, or a unique

collaboration with influencers.

These exclusive offers create a sense of urgency and a fear of missing out.
Preparing for Black Friday
The sheer volume of Black Friday 2023 sales and deals is staggering. Discounts are deeper, deals are more enticing, and the race to grab consumer attention starts earlier than ever. 
Here are a few pointers to remember as you prepare for the holiday sale.
Inventory Management and Stocking Up
In the high-stakes game of Black Friday deals 2023, inventory management is the backbone that supports a retailer's success. As the adage goes, "You can't sell what you don't have." Ensuring you have adequate stock is not just about meeting demand–it's about building trust, reputation, and customer loyalty.
Actionable Tips
Analyze the sales data from the previous year to forecast demand and inform your

stock management

strategy.

Collaborate with suppliers early to ensure timely

product sourcing

.

Consider using inventory management software to track stock levels in real-time.
Optimized Online Presence
With many shoppers turning to online platforms, having a responsive, user-friendly website is essential. This includes mobile optimization, as a significant portion of sales can come from mobile users. 
Actionable Tips
Early and Engaging Advertising
Building anticipation is key. By running Black Friday 2023 ads, you can attract more customers and stay ahead of competitors. If you're an Amazon seller, early campaigns can also boost your Amazon Q4 sales.
Actionable Tips
Utilize email marketing campaigns, social media teasers, or pay-per-click (PPC) ads to promote your upcoming deals. 

Consider

Amazon marketing services for sellers

to reach more prospects if you're selling in the marketplace.

Engage with your audience by offering sneak peeks or early bird specials.
Efficient Logistics and Fulfillment
The post-purchase experience is just as important as the buying process. Ensuring timely and accurate deliveries can lead to positive reviews and repeat business.
In the context of Amazon Black Friday 2023 deals, take note that customers are accustomed to fast shipping times, especially Prime members. Delays can lead to dissatisfaction, negative reviews, and even account penalties for sellers.
Actionable Tips
Collaborate with

reliable shipping partners

and consider offering tracking options for customers.

For Amazon sellers, leverage Amazon FBA (Fulfillment by Amazon) to streamline logistics when fulfilling promo deals.

Have backup plans for potential issues, such as having an alternative shipping partner, extra packaging materials on hand, or a pre-drafted communication plan for informing customers of any delays.
Unique Selling Proposition and Exclusive Offers
What makes your offer stand out in a sea of Black Friday deals? Having a unique selling proposition (USP) or exclusive deals can set you apart from competitors. 
Highlight what makes your product superior. Is it more durable? Is it ethically sourced? Does it come with a longer warranty? Pinpoint that unique feature and make it prominent in your listing.
Actionable Tips
Consider bundling products, offering limited-time discounts, or providing exclusive items only available for Black Friday. 

Engage with loyal customers by offering them special deals or early access to sales.

Take note of the

factors influencing buyers' decisions

during Black Friday, such as free shipping and limited-time offers. 
Frequently Asked Questions (FAQs)
When is Black Friday?
Black Friday 2023 is set for Friday, November 24. 
How long does Black Friday last?
While Black Friday itself is just one day, many retailers usually extend their sales to last for several days or even weeks. 
This means that while the official Black Friday is on November 24, 2023, many deals and promotions will likely begin much earlier in the month and may continue into the following week, encompassing Cyber Monday.
How much is a Black Friday discount?
Black Friday is a golden opportunity for sellers to drive sales and clear inventory. Historically, Black Friday discounts range from 20% to 50%. Some sellers offer even steeper discounts to attract customers. 
While it might be tempting to offer deep discounts, it's crucial to ensure that your pricing strategy is sustainable. Calculate your margins and consider factors like product cost, operational expenses, and potential volume of sales.
The Bottom Line
For sellers, Black Friday 2023 is not just about slashing prices but about understanding market dynamics, anticipating consumer behavior, and crafting strategies that resonate. 
It's about building relationships, fostering trust, and ensuring customer experience remains paramount amidst the frenzy.
As you gear up for Black Friday 2023, remember that beyond the deals and discounts lies the essence of commerce–the symbiotic relationship between buyer and seller, the dance of demand and supply, and the stories of brands that enrich lives. Happy selling!
Author
Carla Bauto Deña is a journalist and content writer producing stories for traditional and digital media. She believes in empowering small businesses with the help of innovative solutions, such as eCommerce, digital marketing, and data analytics.