Why perform an Amazon Competitor Analysis? Sellers must understand how the competition works. This involves product pricing and sourcing, fulfillment options, SEO, marketing, and more.
Almost 2,000 brands join the marketplace on a daily basis. Chances are some of those new brands offer similar products to yours.
Here's where running a competitive analysis comes in. This process can help you monitor any brand's strategies. In return, you'll learn how to outperform competitors.
Today, we learn how to run an Amazon competitor analysis. We'll also review how to use the results to drive your success.
What is an Amazon Competitor Analysis?
Simply put, an Amazon competitor analysis is a reverse engineering operation. It's about understanding the brands offering similar products to a similar market audience. 
When you analyze a competitor, you must conduct deep research into their strategies. You must look at everything they're doing to run a successful business. For example:
Product quality and pricing

SEO and

listing management

Customer service and reviews

Supply & chain logistics

Amazon Ads campaigns

Website and social media channels
In return, you'll find many insights that'll help you drive your own success:
What the competition is doing right

The opportunities they've missed

How to improve your own selling strategies

How to match their conversion and sales rates
Such information can help you take your Amazon store to the next level of success. And with some work and time, it'll help you to:
Streamline product scouting and sourcing

Create a competitive pricing strategy

Design

targeted marketing campaigns

Improve customer experience

Detect and occupy new market gaps
Now, this is easier said than done, of course. A successful competitive analysis takes a lot of time, research and effort. It also consists of 3 key parts:
Find and narrow down your direct competition.

Perform an Amazon seller competitor analysis.

Take action based on the collected information.
Let's break down each element to see what a full Amazon competitive analysis entails.
1. How to Find Competing Sellers on Amazon
Who are your biggest competitors? Who are the brands that sell similar products to yours, and have found huge success on Amazon? Let's see how to find them:
Think of your own target keywords. It's more than likely that your competitors are using the same terms to rank on Amazon.

Conduct a general search to find the top product. Note the brands that are closest to your own products and strategy.

Review their listing quality, user reviews and ratings. Also, check out their

Amazon ads:

how many do they have? Where are they located?

Narrow down the terms to come up with a list of your closest competitors. This will help you to come up with a list of your direct competitors.
We also recommend that you include sellers that boast the Amazon Choice and the Best Seller badges. These would be top products that you should keep an eye on.
2. How to Run a Competitor Analysis on Amazon
Now that you've pinpointed your direct competition, you can perform an Amazon competitor analysis for each seller.
Think of it as a SWOT analysis. The goal is to find gaps in their strategies to boost your own competitor advantages.
Here are the key elements to focus on:
Listing Audit
Product listings can make or break a sale. Your top competitors will boast attractive listings that drive conversions. So, it's crucial to note what they're doing right.
There are many elements that go into creating engaging product listings:
Title.

It should be clear and compelling. Great titles describe what the product is and does. It's what invites users to keep on reading.

Bullet Points.

Here, sellers pinpoint the key benefits of a product. Use

bullet points

to share how a product can solve the user's needs.

Images.

Users need to see the product in action. 

Clear and descriptive images

display how the product looks, and how it works.

Description.

Here, sellers can dive deeper into the product's benefits. It's also a great venue to share the brand's story, which may help you engage with customers.
Customer Reviews
User recommendations are a big sales factor. That's why you should pay close attention to product reviews.
Customers want to learn about other users' product experience. So, it's key that you offer quality products, and great services, to earn great reviews.  
The competition's reviews can tell you what a user is lacking from a specific brand. With such intel, you can then set out to meed these needs.
Also, take note of the listing's Q&A section. Check out the questions customers ask most, and then answer them in your own listings. You'll help users save time, and also speed up conversions.
Pricing
This is one of the key product features for Amazon customers. But don't always try to go lower.
Pricing may vary between competitors, but they always stay within a close range. So, how can you set competitive prices?
Use a repricing software to devise a dynamic strategy. This is a great tool to learn which are the most attractive prices, at any given time.
The goal is to stay competitive, without losing profit.
Average Monthly Sales
There are many suites that let you track sales and pricing history. Such data can help you see where a competitor is falling behind.
Then, you can strategize to take the lead from under their noses. It's also a great way to determine if it's worth investing in a specific product.
Also, tracking monthly sales can tell you how much stock sellers move, or don't move. It's a great way to detect the most profitable Amazon trends.
SEO Strategy
Keywords feed the Amazon A9 algorithm. They also attract customers outside the marketplace. So, the right SEO strategy can place you in front of users, and above the competition.
Invest in a keyword research tool to find the terms that best suit your product. This software can also track the competition's keywords. So, you'll understand how are they boosting their ranks, and act accordingly.
Amazon Ads
Amazon offers many advertising options to sellers. Your competitors are certainly using most of them.
Review the type of ads they use to attract customers. Also note where they post their most successful ads.  Then, set up a campaign that can compete against their strategy.
3. Taking Action
The Amazon competitor analysis gathers a lot of data on what the competition does to stay ahead. And now, you have to make sense of all your research.
You can create a new marketing strategy, or focus on customer engagement. In the end, you'll have to choose how and where to allocate resources.
Here are a few ideas you can explore:
Explore New Market Gaps
Did you find some new market gaps worth filling? Then why not source the best products to do so? Selling to a unique market niche will offer you access to an untapped customer base.
Plus, if the needs of a specific audience are not fulfilled, you'll face no competition! It's almost a foolproof way to drive conversions and gain new followers.
Consider Expansion Off Amazon
Go beyond Amazon borders. You can revamp your website and social media. This'll help you attract users that still don't know about you.
But another great idea is to start another store on a new platform. Chances are your competitors may not have a big presence outside Amazon. So, you'll have an (almost) open road to delight new customers.
Final Thoughts
If you're still not monitoring competitors, then you're lagging behind. And make no mistake, some Amazon brands are likely already tracking you.
Performing a competitor analysis on Amazon is not easy, but it's well worth it. You'll understand where your niche audience is, and what the best strategies are to drive sales.
There are many tools available to do so, as we saw above. And if you need more outside help, reach out to us! We're always ready to help.
So get to know your competition now! Learn how they drive conversions. That's how you can adapt to Amazon, and nurture growth.
Author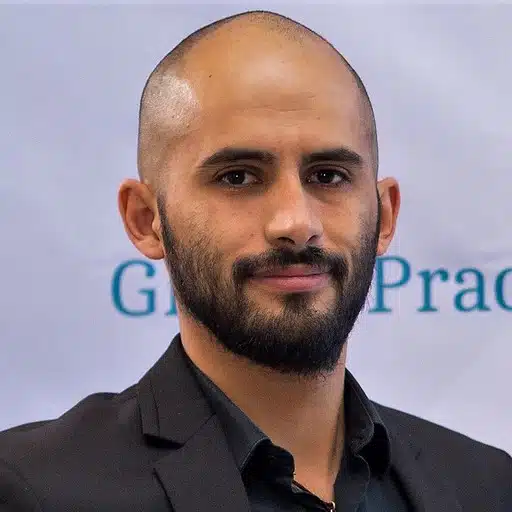 Esteban Muñoz is a content writer at AMZ Advisers, with several years' experience in digital marketing and e-commerce. Esteban and the AMZ Advisers team have been able to achieve incredible growth on Amazon for their clients by optimizing and managing their accounts, and creating in-depth content marketing strategies.